🍷SAINT EMILION 🍇 BORDEAUX 🍇 CAP FERRET 🦪
That was my treat a couple of years ago (with my hubby)before the season starts to get our batteries fully loaded !
We arrived at Bordeaux Airport and rented a car, we drove for about an hour before arriving to this stunning 5 ✨Hotel Château Grand Barrail, and all straight away felt like a princess 👸🏼.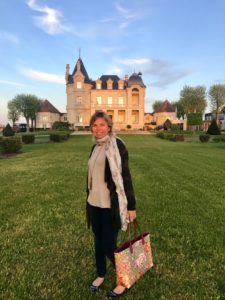 Nested in the vineyards plus a Cinq Mondes Spa was waiting for me as well. I got a super deal by booking this one night stay during the week, that's the trick 😉. We went for diner to this casual Bistrot "Chai Pascal" in the village and enjoyed a typical country meal , with Fois gras, duck confit and wine from Saint Emilion of course (I recommend you try there a bottle of Château Les Gravieres Saint Emilion Grand Cru 2015)
Then the day after we went to tour some vineyards and past by the most famous ones in Saint Emilion, Pomerol, Lalande de Pomerol, we passed by Château Cheval Blanc, Petrus, Château Angelus … all the expensive ones 😉
You can rent a bike if you want but we decided to drive around, the village and the area are pretty compact so you can do a lot in one day , we went to stop by "Château Tournefeuille " which has been producing wine for over 200 years. After so much emotion and wine tasting …. we went for a lunch outdoors to Château Candale in the vineyards overlooking more vineyards, the weather was amazing and the setting just perfect. After lunch we went to visit a "must see" in Saint Emilion: it's a unique Monolithic church dated from the XII th century built in the stone, you need to book the tour with the tourism office as it is a small group visit. Saint Emilion is a stunning little village with plenty of charm.
At the end of the day we headed back to Bordeaux and stop at some friends, they live in Bangkok most of the year but this time we got lucky to catch up with them and they took us for a walk in Bordeaux downtown, along the river Garonne , Place de la Comedie for a before dinner drink at the Rooftop of the Intercontinental Hotel to enjoy the city view, (by the way if you need a Hotel in Bordeaux try the Mamma Shelter, cool, trendy and a great rooftop too with music) .
After a good night's sleep, well deserved, our friends who live in the fashionable Chartrons district, decided to take us for breakfast to "Au Petrin Moissageais" , a 250 years old bakery, with bread still made in the wood oven. Love this place, it is so authentic.
Of course the problem is that you want to eat everything there, they do have a big table where you can sit and order your french breakfast with fresh orange juice and coffee.
Then we went to visit "La Cite du Vin" , it is a new generation of Museum with a really beautiful modern architecture (a big change from the old bakery 😂) . Well there you can get the story about the wine across the world, there is also a boutique, a high end restaurant and a bar….we did not stop there, still full from breakfast ….
So our friends took us to one of the oldest bar in Bordeaux "Cafe Brun" and it is worth having a glass of "Lillet " a typical drink from Bordeaux (beside wine🙂) and since we did not eat for a long time 😅 we went for a casual lunch at Michel's Bistrot. I forgot to say but when you are in Bordeaux you must taste some little type of muffins called "Canneles " they are very famous around.
It was time to leave Bordeaux to our next stop in Cap Ferret, a one road option destination, so they can be traffic, it takes an hour and a half to go there and along the road you'll notice a total change of scenery from what you have seen before, pine trees, flat lands, the Atlantic ocean and Bassin d'Arcachon upon arrival …..we stayed at "Hotel des Pins ", I don't recall any star at this hotel but the charm has operated, small old hotel from the 1930′. I really liked this place. I really don't care to go from a Castle to a very cute and charismatic hotel. What matters to us is all about the story that goes with it.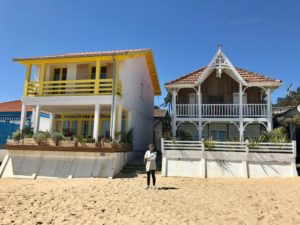 So what to do in Cap Ferret is very simple: you rent a bike !! because you'll see many cycling roads, this is the way there, take your swimming suit and sneakers, this place is casual chic. This is the "Saint Tropez" atmosphere from the Atlantic. Of course you need to go to a super casual lunch at an Oyster Bar, you'll find them everywhere by the sea you can try "Chez Yannick" : they all propose oysters, shrimps, bread, white wine : nothing else,(no dessert neither 😉 ) this is the most easy lunch you'll find there but, with bay view, feet in the sand, you might see across the Dune du Pilat.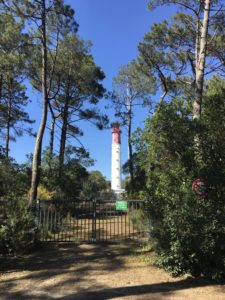 The "Must" in Cap Ferret is its lighthouse built in 1840 and 57m high, worth climbing !! I can't remember the number of stairs but there are many 😉 Anyway after so much food from the days before I felt like exercising and the 360° view from the top is just worth every effort …..
We also enjoyed the beautiful beaches, looking at all those fishermen going back and forth in the Bay to harvest their Oysters on their "Pinasse" Boat.
For diner we have been recommended to go at "Chez Hortense", a restaurant which has been run by the same family for 4 generations, you need to book there, nothing is fancy there, the food is just very simple but fresh, this place was featured in a famous french movie with Marion Cotillard "Les petits Mouchoirs ".
I almost forgot: try the local Beer called "Pinasse Beer" before leaving Cap Ferret.
"Voila" this the end of our 4 days trip: This escapade was fun, relaxing and the perfect way to refresh my wine knowledge before my season in the Med.
If you ever decide to go there share with me your experience 😀