So when it comes to smoke a cigar, aficionados like an entire ritual with it, in a way it is very similar to wine tasting : it is all about aromas, taste, aging, storing but also pairing with the right drink.
Here I will just go with the basic tips for you to feel at ease when you have to buy or store cigars.
Cohiba is the flagship brand of Habanos. It was created in 1966 for President Fidel Castro and made in the then top secret but now world famous El Laguito factory.
Smoking an aged Cuban cigar is a special moment for any experienced aficionado . When aged in the proper humidor conditions(3years+), the blends on Habanos start to develop and mature to what the Ligador (Master Blender) had intended when he first imagined the smoke. Like a French Red wine, Cuban cigars take time to find their equilibrium. Tobacco leaves grow in tropical environment therefore humidity is important to keep the leaves quality.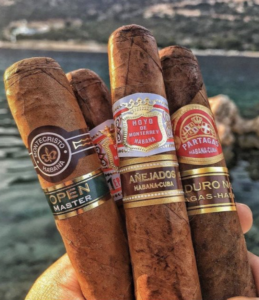 Below the list and ranking of the countries where we found the best and most well know cigars:
-Cuba: 1/ Cohiba Behike BHK 52 2/ Partagas Lusitanias 3/ Romeo y Julieta Churchills reserva.
– Domenican Republic: 1/ Davidoff Millenium blend robusto 2/ Arturo Fuente opus X robusto 3/ Zino Platinum crown series emperor.
– Nicaragua: 1/ Tatuaje Cojonu 2006 2/ Rocky Patel 15th anniversary corona gorda 3/ Padron 1926 N°2
– Honduras: 1/ Rocky Patel vintage 1990 2/ Flor de Selva robusto 3/ Zino Classic N°1 tubos. Cuba: 1/ Cohiba Behike BHK 52 2/ Partagas Lusitanias 3/ Romeo y Julieta Churchills reserva.
Your "must" items for smoking cigars
Humidors + Lighters+ Matches+ Ashtray+ Cigar cutter + Travel Cigar case
The difference between cigars and cigarillos: because of their shape and size,  cigarillos are more appropriate for ladies and also they can be flavored.
Cigarillos diameter is limited to 1.2 cm and should not exceed 3g, the tobacco which is used is cut tobacco and the top leaf is a first choice. They are also  made with machines. Normally they are sold open and ready to use without been cut, of course they are way cheaper too.
If you need to get a small selection: 
Ashton, Davidoff, Camacho are the high end of cigarillos and are a very good quality product.
Versus cigars which are rolled by hand only, and the best quality and finest leaves are chosen.
The choice of the humidor is the most important of all accessories.
There are many type of humidors to choose from, considered the best and the most pricey are the one made out Spanish cedar wood which is the best wood to keep a balanced humidity and temperature. But you can find also good humidors made of American cedar, or Mahogany from Honduras, you can get very nice and good plexiglass humidors too.
Choosing a humidor: let's say you need to store 20 cigars, get a box for 50 so there will be enough room for air circulation + a good humidifier system +a good cedar lining seal + an external or internal hygrometer + buy also an extra thermometer to monitor the temperature
Once you have bought the humidor, now your role become essential :
Preparation of the humidor before welcoming the cigars in: do not store any cigar in before.
Make sure to calibrate the hygrometer: calibration kits are resealable plastic bags with precisely measured salt packets that generate 75% humidity over 24 hours , you can get them from "Boveda" , open the bag and place your hygrometer for 24 hours.

once all above is done, check that the humidity is right, then you can store the cigars in, remember to remove them from their tube, to allow them to breath properly , so they will age quicker.
Regular check and maintenance of the humidor are necessary
        – Temperature under 73℉ or  22 ℃  (above this temperature tobacco might get beetle infestation)
        – Humidity between 65% and 72% (if not : it will give an uneven burn of the cigar, moldy taste, bitter taste, split the cigar)
         – Refill the humidifier : don't use tap water, (minerals ruin the humidifier), you can use PG solution or distilled water,
Depends on the climate you are in:
if the climate is dry : every 2 weeks
if more tropical : once a month
While seasoning your humidor, you can leave your cigars in humidor bags or other humidity controlled containers. Never store cigars in a fridge !
"There's something about smoking a cigar that feels like a celebration. It's like a fine wine. There's a quality, a workmanship, a passion that goes into the smoking of a fine cigar."
Demi Moore