This article is written in collaboration with Alain Saint Joanis, a family run company specialized in Flatware, they are also member of the Atelier d'Art de France, Federation of craft professionals, Alain Saint Joanis have been designing and creating exceptional cutlery since 1876.
Craftsmanship, skills and know-how which have been passed on from father to son. You will find here also a combination of tips from Christofle, Schiavon, Ercuis.
What's out there ?
From the cheapest to the most expensive, there are many options when it comes to buying cutlery, down below is a list of the most common ones. By the way, most of the high end companies can offer your own personalized set. Don't hesitate to ask when you are about to buy silverware.
Stainless Steel: the least expensive, which exists in 2 qualities 18/0 & 18/10, the last being the better one. 18 indicates the percentage of chrome , "0" & "10" indicates the percentage of nickel, the higher the better, as it will make the flatware more shiny & resistant to corrosion.
Silver Plated: is a combination of copper & bronze coated with silver with an electrolytic reaction, quality can vary with the quantity of silver coating & techniques that have been used.
Silver Sterling: is a combination of copper and silver. This is the higher end of flatware.
Gold Plated: which is a combination of silver with a gold coating.
You can also find some other models such as lacquer, or wood (ebony, olive …) which can be found in various colors and bring a total new look to the table.
Cleaning
Nowadays most of the companies will tell us that it is fine to clean all flatware in the dishwasher, I am not a big fan of the dishwasher for the Silver Sterling or Gold plated models , and I would highly recommend that you wash them by hand if you have the possibility to do it (with a non-abrasive sponge & a mild detergent without citric agent).
If you have some knife made before 1968 : Hand wash only .
Sterling silver flatware with mounted handles should not be placed in the dishwasher, this will damage the precious and/or natural materials of their handles (wood, semi-precious stones) and would weaken the mounting. Before first use, flatware should be washed by hand with a gentle liquid detergent.
However if you decide to go for the dishwasher, most companies will suggest you to follow a few rules to keep your flatware shiny and in good condition longer.
Avoid using products which contain chlorine or citrus which you find often in all in one tablets, liquid or gel, regular powder is preferred.
Rinse your flatware with lukewarm water (add soapy water if you are not intending to start the dishwasher rapidly), it will stop the prolonged contact with acidic substances which can damage silver.
Separate silver from stainless steel as silver dislikes touching other metals. Have separate baskets or run 2 different loads.
Do not overload the basket so they have enough room to wash well.
Operate the dishwasher using a gentle cycle at a maximum temperature of 40°C- 45°C.
Once the cycle is done, wipe the silverware as soon as possible with a clean tea towel so the vapors will not leave water drop marks.
Rubber contains sulphur which darkens the surface of silver. Avoid using plastic gloves or rubber drying mats.
When drying, or handling your cutlery avoid to stock them up on top of each other, be gentle, they scratch easy.
Maintenance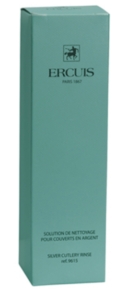 A regular use is best for Silver Sterling, Gold, Silver Plated, as it will keep its brightness. But if the cutlery is not in constant use, then polishing is part of its care it will remove the tarnish and bring back the brightness of the silver. There are different products available and going for the renowned brands available is safer.
A silver polishing paste (comes with a sponge). It can big use for big silver items. The piece needs to be rinsed as well straight after with warm water, and each cutlery should be done one at a time.
Mitt or Cloth: Perfect for all big pieces : ice bucket or platters, trays, decoration items. The more they are used the darker they get but this mitt should never be washed as they contain a non tarnish product within.
Also rubbing should be done lengthwise as silver is very delicate. Use an old toothbrush to polish parts that are difficult to detail.
In any case read the manual before using all those polishing products.
Out of silver polish: you can use toothpaste.
Where to store ?
Silver sterling & Silver plated cutlery needs to be stored away from the light & humidity, they should not be in contact with air, as it can get dark and lose its shine. Ideally it can be stored in drawers organized with dividers (in wood or plexiglass) & covered with velvet (which will protect it from scratches). For small quantities boxes are a good option.
Now it is about time to get the table set !