After purchasing linen for 7 yachts, 30 cabins, 3 apartments & 3 villas including a total of 16 bedrooms, without counting the linen for the staff and crew, down below some advises for your next purchase.
Your guests needs to have a good night sleep, it is important to choose the right fabric, and to know when it's possible  what are the owners & guests preferences.
Linen quality is essential : they will last longer, they will be easy to iron, they will remain soft, and will be comfortable to sleep in.
The trick to buy linen is that from one country to another, mattresses, pillows and therefore linen, come in different sizes. You must be careful, prepared and have all measurements and quantities ready before buying regular bed linen from the shop, or when you need to order custom made.
Here few tips and infos to take into consideration
Making a double bed 
1 fitted sheet

4 pillows cases (number of pillows can vary)
The fabric is recognized by the thread counts, the higher the softer, the most expensive and easier to iron
Thread counts range from 200 to 1500.
Most common choice is percale, voile of cotton, sateen of cotton, linen or silk , it's a matter of location, season and also personal taste. (linen fabric is really nice to sleep-in in a tropical area)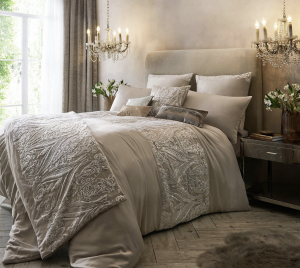 Many Design and patterns are available
Jacquard weave

Plain weave finishing styles (double border, classic cord, chevron…)

If you like to custom your bed linen you can decide to personalized them adding a monogram.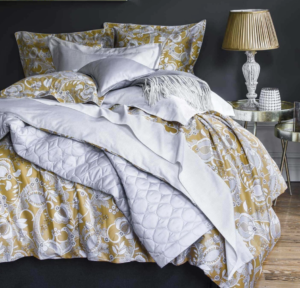 Sizing
-The fitted sheet: it is important the sheet is the same length and same width as the mattress (check the length, width, depth of the mattress)
-The flat sheet: the sheet should be way larger than the mattress (so you can tuck it in, I would recommend about 50 cm on all sides), width vary accordingly to the depth of the mattress.
in US:  range from 6 to 24 inches width
in Europe: range from 25 to 45 cm width
-The duvet cover: Measurements should match exactly the duvet, like for the flat sheet it should be larger than the mattress. I would recommend to add at least 30 cm  on all sides. Depends the style of the bed and room you should be able to tuck-in the duvet or live it out.
-Pillow case: they should fit the pillow, you can decide for pillow case with or without flaps.
-Pillow & Mattress protectors: help to absorb humidity, protects from stain and keep pillow and mattress fresher.
Choosing Duvet and Pillows
Your selection should be done according to the location and season :
Light Duvet: during summer, room temperature above 22 °C

Heavy duvet: during winter, room temperature below 18 °C
You will find different kinds of duvet
synthetic: recommended for persons sensitive to allergies

natural goose or duck feathers: for warmth and coziness
When choosing your bed linen, pillows and duvet, put your heart into it, always try to feel the fabric, a bed should be esthetic and inviting.
Sweet Dreams