Caviar is a delicacy, so it is very important to know the " do's and don'ts " about Caviar service, to enjoy the subtle taste of it.
Having a caviar set is a "Must" on high end Yachts, luxury villas or private jets.
However if you don't have one , get inspired and creative by following basic principles , you should be fine.
Don't spend money on caviar if you don't use the proper utensils.
It is essential to keep a good communication with the chef during the process so the timing for temperature is controlled.
Caviar should be used within a week after opening.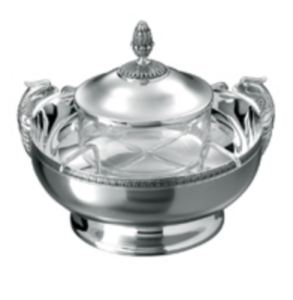 you will need serving spoons : ideally mother of pearl, horn, bone (no metal spoon)
if you have small mother of pearl dishes, it's the perfect time to use them

Condiments to prepare and serve with caviar:
                -hard boiled eggs (yolk and white chopped separately)
                – sour cream (or creme fraiche)
                – ideally home made blinis (or fine toasts, unsalted crackers)
What to drink with caviar
                        – Straight shot of fine frozen vodka
1 hour prior to serving caviar, chill your appetizer plates (or mother of pearl plates) in the refrigerator

15 mn prior to serve, take the caviar tin out of the fridge to adjust to room temperature

Open the tin and nestle caviar the caviar in the middle using a mother of pearl spoon.

Place chilled appetizer plates near each guest

Bring caviar bowl, condiments, blinis and drinks to your guests

Allow the guests to help themselves and enjoy !